My awesome experience Rock Climbing in Madrid with DreamPeaks, by Stephanie Ford.
Madrid, known for its history, culture, and food, might not conjure up images of the great outdoors at first instance. But with National Parks a stone's throw away – including Europe's largest granite outcropping – adventure is just around the corner.
In February 2020, I joined DreamPeaks for a rock-climbing tour – along with my boyfriend, another couple, and our fantastic guide Edu.
If you're looking for adventurous things to do in Madrid, a day out in La Pedriza won't disappoint – whether you keep your feet firmly on the ground or scale some of its sheer walls.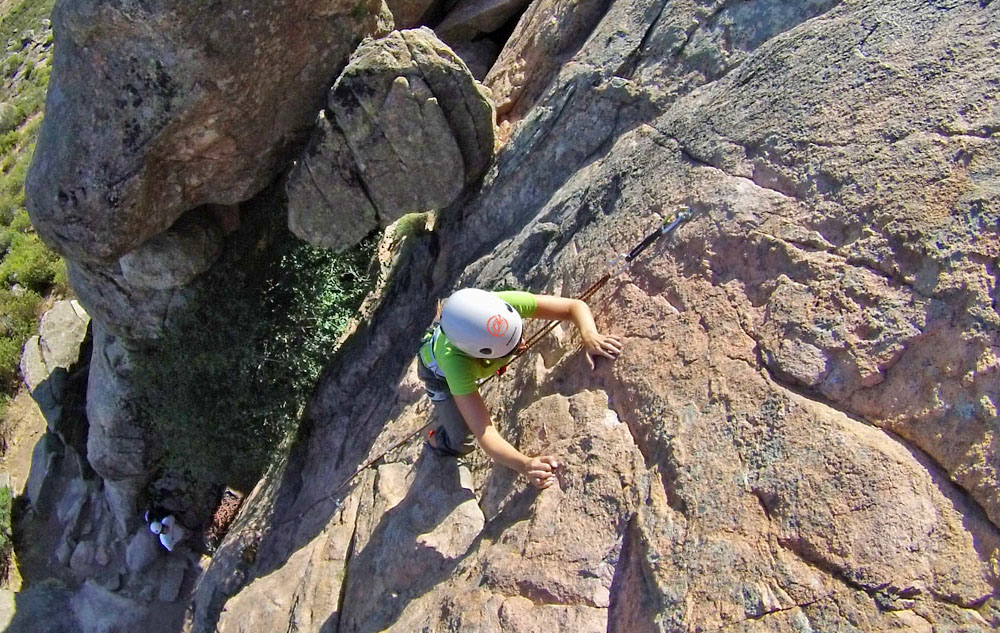 About the Park: La Pedriza Guadarrama National Park in Madrid
As you drive towards La Pedriza from Madrid, it becomes apparent why the area is known as the Joshua Tree of Spain. The granite outcroppings tower above their surroundings, looking as magical as they do formidable.
La Pedriza is a hotspot for hikers, MTB riders, climbers, and boulderers. The hike we did between the car and our climbing spot was short but sheer. It almost felt as though Edu was testing us to see if we were up for what was ahead. He wasn't, of course. He just wanted to make sure we could safely scramble.
Once you're in the park, the diversity is incredible. Spiky bushes and sheer rock faces are softened by the lakes glittering in the distance, the humming of the bees, and the flowers that appear wherever you least expect.
Honestly, even if you arrived at the park and found that rock climbing wasn't to your taste – you wouldn't be disappointed by the views or exploring the area around the climb. The park is really special, so you'll get just as much value from a hiking tour through La Pedriza.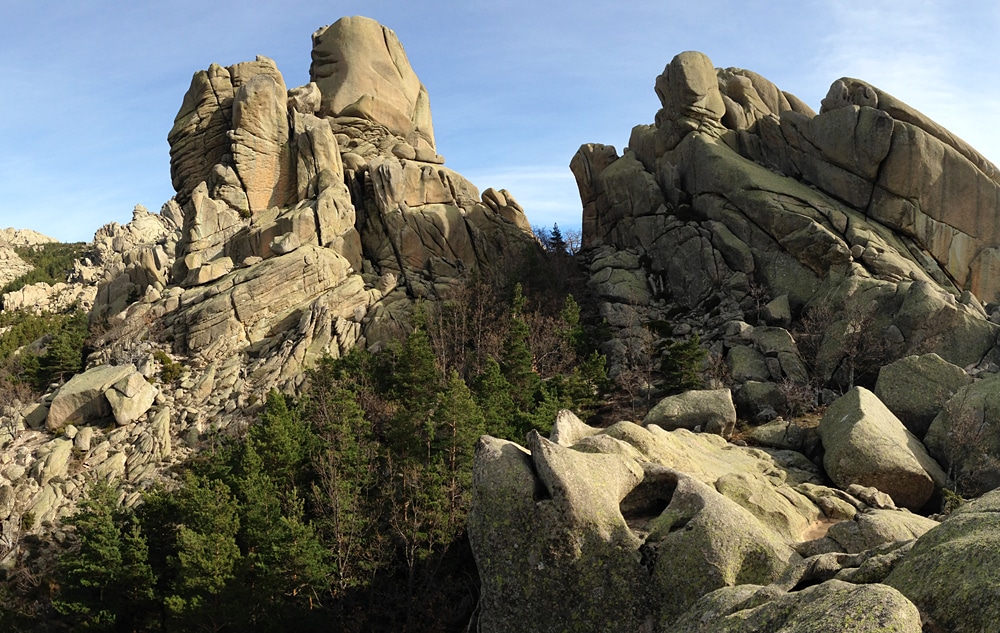 Madrid Rock Climbing for Beginners
While I think of myself as an adventurer, my experience with rock climbing is limited. In fact, I'd only climbed outdoors briefly (for about fifteen minutes) once before.
I was initially nervous, but the tour was professionally run so I was quickly put at ease. I didn't have any doubt in my mind what was expected of me after we got down to business.
The gear is easy to use and doesn't require extraordinary strength. My lack of upper body strength is an ongoing joke between my partner and I – and I managed just fine.
Climbing the orange granite walls, surprisingly, was more about leg strength and keeping a cool head than it was arm strength. Edu guided us through common misconceptions about climbing, safe use of equipment, friction climbing techniques and any other difficulties we had.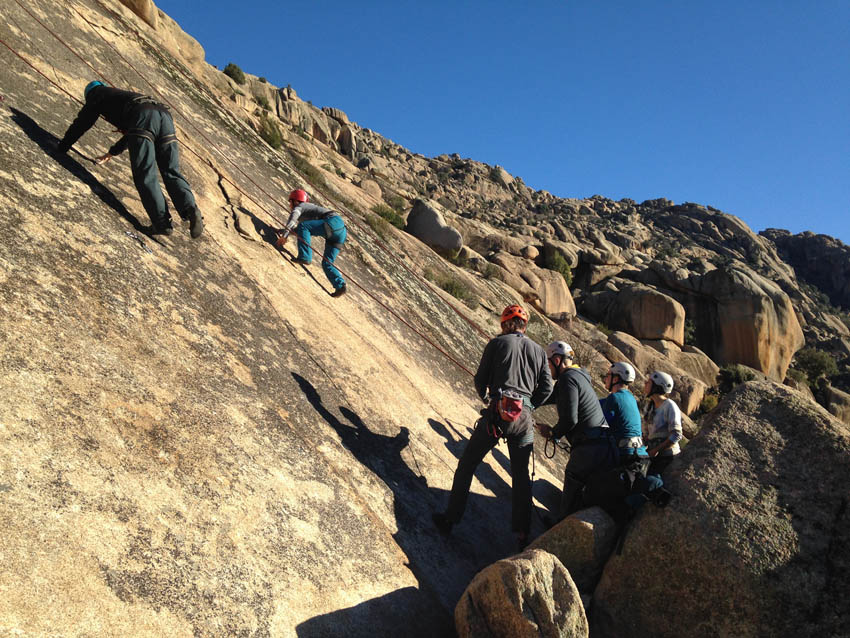 Madrid Rock Climbing Tour with DreamPeaks
Edu mentioned that La Pedriza is one of his favourite climbing spots. That speaks volumes, since he has been visiting the park as a guide for almost a decade and has climbed around the world. His passion for climbing was evident all day.
I really struggled with my first climb. Instead of letting me give up, Edu climbed up beside me and showed me how to get it done. Everyone in the group was supportive and encouraging, while Edu effortlessly switched between helping us in English, and the Spanish couple we were grouped with in his native tongue.
A Day Trip from Madrid
Our timeline called for a day trip from Madrid. For anyone seeking longer adventures, there is accommodation in the park and multi-day tours are available.
We were collected from Madrid quite early and whisked away in a clean BMW to La Pedriza – about an hour away. After a short coffee stop and toilet break, we drove to the small parking area at the base of the outcropping we were going to spend our day climbing. From there, we hiked up.
In total, I climbed 4 different routes. I was completely exhausted after the fourth, but blissfully happy. For those in the know about climbing terminology, they were graded: 5+, 5, 6+, and 5+ (spanish and french climbing grading system).
We spent about 4.5 hours climbing in total. We then packed up, hiked out, and made our way back to Madrid – tired, hungry, and proud.
What to Bring Rock Climbing in Madrid
Here's a checklist that'll ensure you have the best day possible:
Water – and lots of it. You'll get warmer than you expect and climbing is thirsty work!
Outdoor wear according to the season.
A fleece and a windproof/waterproof jacket.
Sunscreen.
Sunglasses.
Hiking shoes.
Toilet paper and a plastic bag (there are no facilities near the rock face).
A phone and camera.
Snacks and a packed lunch – or order the lunch with DreamPeaks.
Your sense of adventure!
If you have your own climbing gear, bring it. If not, everything you need to climb is provided – free of charge by DreamPeaks.
When to Go Rock Climbing in Madrid
I went in winter and was met with a beautifully sunny day.
Plenty of others took advantage of the amazing weather and made their way into the park to climb, but it never felt crowded. In fact, it was incredible watching climbers of all levels do their thing on the same rock face. So, you don't need to worry about 'peak season' or overcrowding.
Winter, spring, and autumn are the most popular times for climbing in Madrid.
The heat in summer can be brutal, especially in light of the reflection off the rocky face. So, the shoulder seasons and winter are best. Nevertheless if you go climbing in summertime there are numerous climbing crags and cliffs north oriented, higher or with shade. Wake up early is recommended.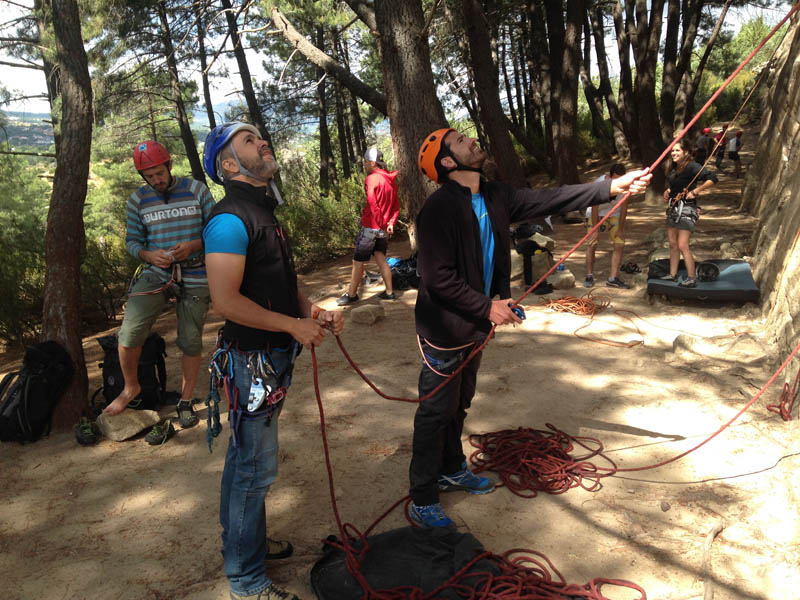 Other Things to Do around Madrid
If you're not certain about climbing but you are certain you want to get outdoors, you're not short on options.
Beyond La Pedriza, explorers of all fitness levels can explore Segovia. The monument itself is incredible and it's surrounded by an oak forest, high summits, and impressive rock formations.
Hiking, canyoning, kayaking, scrambling, via ferrata, mtb or road biking, caving, horseback riding, trail running, paragliding and hot air balloon flights spots are all within easy reach 1 hour by car from the nation's capital.
---
Text by Stephanie Ford. Travel Blogger and Outdoor fan from Australia.