10 Natural Parks in Madrid and beyond to discover in Fall
Autumn is the season in which our mountains, forests and rivers are decorated in bright colors under changing lights, rich in contrasts and nuances. Beech trees, chestnuts, oaks, elms and poplars change the color of their leaves, offering an authentic outdoor experience. In addition, fallen leaves, fog, drizzle and weak sunlight muffle the sounds bringing mystery and peace to the wilderness areas of our territory. It is the ideal time to explore and enjoy hiking, wildlife watching, landscape photography or other outdoor activities in nature, a nature of extraordinary beauty, always changing, because light and color change every minute, every hour, every day, every week to throughout Fall months.
Especially in Madrid, Castilla-León and Castilla-La Mancha we have natural and pristine sceneries of great value as well known as the Beech Forests of Hayedo de Montejo and Hayedo de Tejera Negra, the Chestnut Forest of El Tiemblo or the banks of the Duratón River. This is a brief guide of 10 places full of charm that you can not miss this autumn including some of the best hikes for fall foliage viewing in Madrid and neighboring provinces.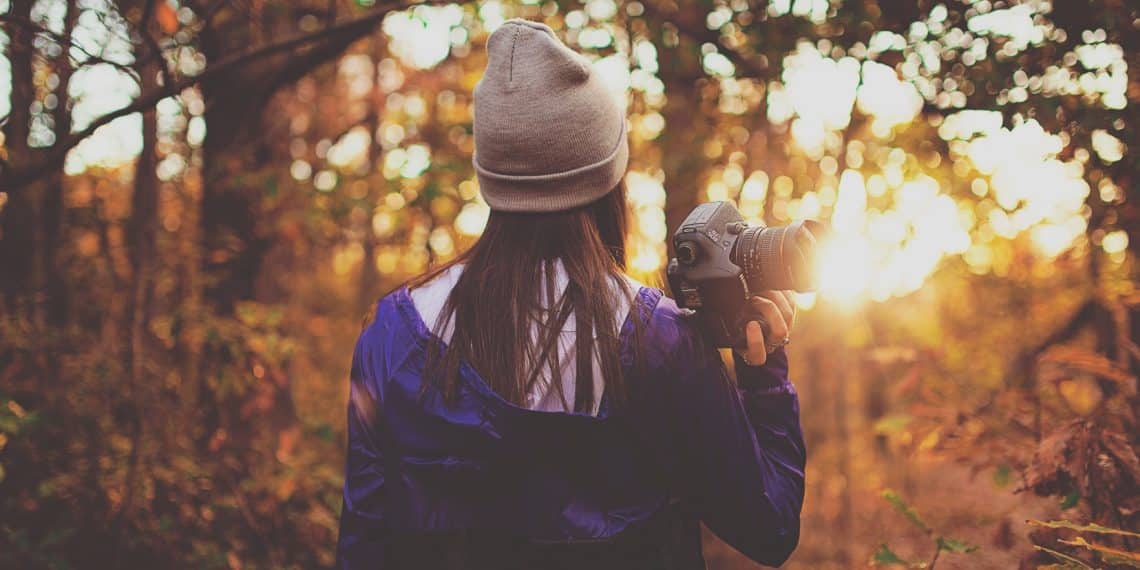 1. HAYEDO DE MONTEJO
Location: Montejo de la Sierra, Sierra de Ayllón. Community of Madrid.
Also known as Monte El Chaparral, the Hayedo de Montejo, one of the southernmost beech forests in Europe, declared a Biosphere Reserve, has beech specimens, such as La Roca tree, with more than 250 years old. Its origin goes back to rainy and wet postglacial stages. It is difficult to grow in these latitudes, hence the curiosity that arouses. The altitude of the Hayedo de Montejo ranges between 1,200 and 1,600 meters, depending on the area and its dimension is not very big.
Recommended activities: Hiking, family hiking. Environmental education Among its most picturesque hikes are the Senda del Río trail on the banks of the Jarama, the Senda de la Ladera trail and the Senda del Mirador trail. All visits are guided and there is no free access. Therefore, although there are some places available on the same day to attend the guided route, it is recommended to reserve a place in advance.
2. HAYEDO DE TEJERA NEGRA
Location: Cantalojas (Sierra Norte de Guadalajara Natural Park), Guadalajara. Community of Castilla-La Mancha.
The Hayedo de Tejera Negra is, with its 400 hectares, the largest beech forest in the Central System, due to its exceptional Atlantic microclimate and was declared a World Heritage Site in 2017. It is one of the most southern beech forests in Europe.
It has great diversity of wildlife (roe deer, fox, wild boar, otter, golden eagle, sparrowhawk, titmice, coal and reptiles) and flora (beech, oak yew, holly, birch).
Recommended activities: Hiking, family hiking. Environmental education. The most popular hiking routes are Senda de Carretas trail and Senda del Robledal trail. Permission is needed for the entrance with car to start the visit.
3. HAYEDO DE PEDROSA
Location: Riofrío, Riaza, Segovia. Community of Castilla y León.
Mountain range, old trees and fantastic views of the Ríofrío valley, Somosierra and Sierra de Ayllón. The Hayedo de Pedrosa is one of the most spectacular beech forests of the province of Segovia, with centennial trees covered with moss and lichens that alternate with the undergrowth of heather and blueberries. In addition to the beauty of the beech forest, the views of the Riaza River Valley and the Riofrío reservoir deserve the hike.
Recommended activities: Hiking, family hiking and mountaineering. It has 87 km of trails between 1,500 and 1,700 meters high, as well as challenging ascents to Pico de Lobo 2,274 m. or Pico del Granero 1,969 m.
4. CASTAÑAR DE EL TIEMBLO
Location: El Tiemblo, Ávila. Community of Castilla y León.
The Castañar del El Tiemblo, in Ávila, is one of the most popular autumn excursions that can be done from Madrid. It is a small chestnut tree forest on the slopes of the Reserve of the Valley of Iruelas.
Recommended activities: Hiking, family trekking, bird watching (blackbird, thrush, blue climber) and wildlife such as roe deer, deer and wild boar. The most popular hike is "La Senda del Castañar", a spectacular beaten path of just 4.5 km that runs through its forest of chestnut trees, oak trees, cherry trees, elms and birches. The star of this hiking trail is a centennial chestnut tree called "El Abuelo" (The Grandfather) of more than 525 years.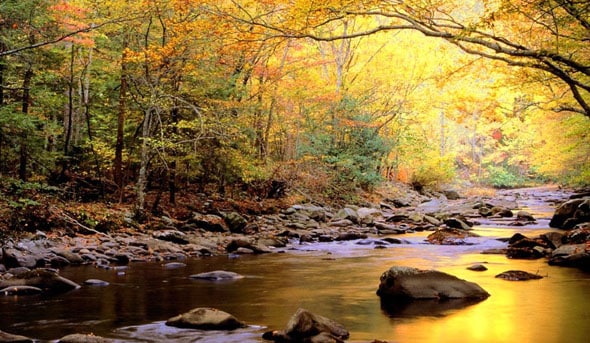 5. CANENCIA ECOLOGICAL TRAIL
Location: Puerto de Canencia, National Park of the Sierra de Guadarrama.
In this forest of only 6.5k in which we can enjoy a wide variety of species: pine, oak, heather, holly, yew, some Douglas fir and especially birches with a white trunk that give the characteristic color to this garden natural botanist The Waterfall of Mojonavalle stands out.
Recommended activities: Hiking and family trekking. It has circular routes of 7 to 12 km of great scenic beauty in the mountain.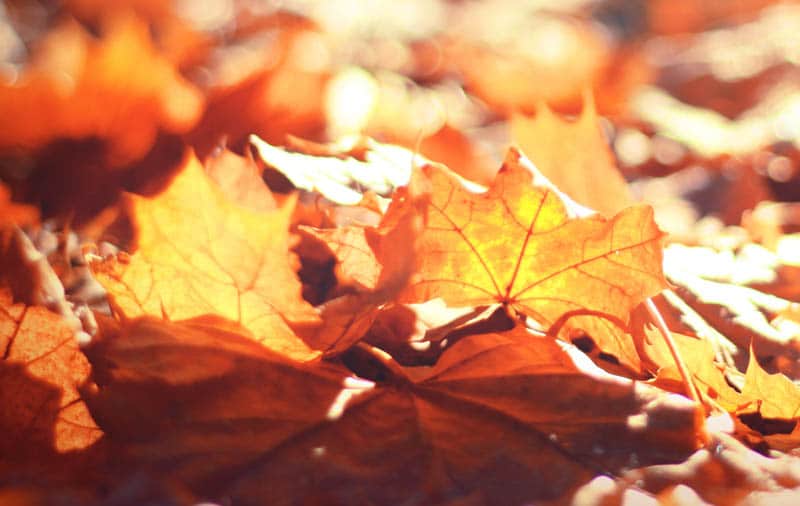 6. BOSQUE DE LA HERRERÍA
Location: San Lorenzo de El Escorial. Madrid's community.
Located in El Escorial, this forest of oak, chestnut and ash trees is perfect to enjoy family walks or more sporty hikes, especially in the Autumn because of its color and atmosphere. It highlights its botanical, geological and wildlife diversity.
Recommended activities: Hiking, family trekking, mountaineering, climbing, flora, historical heritage. Through the Grand Route GR 10, flanked by moss-covered stones, you will reach the famous Felipe II Chair, a natural viewpoint from which you can enjoy a magnificent view of both the Monastery of San Lorenzo de El Escorial and Monte Abantos, Las Machotas, Siete Picos and La Maliciosa.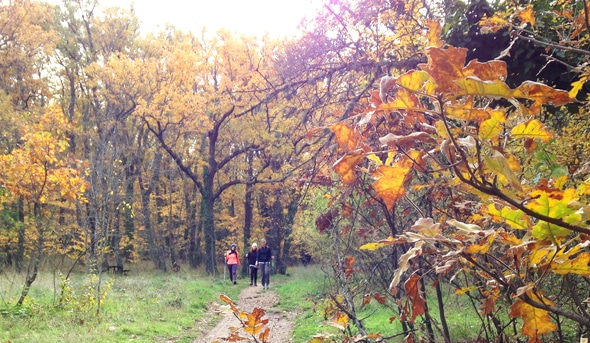 7. ARBORETO "LUIS CEBALLOS"
Location: El Escorial. Community of Madrid.
It is an area where you can discover a natural collection consisting of about 250 different species of trees and shrubs native to the Iberian Peninsula and the Balearic Islands. In addition, several thematic areas focused on forest culture, knowledge of flora and fauna, and several thematic paths can be visited in the museum.
Recommended activities: Hiking and family trekking. Environmental Education and botany. We can visit forestry areas (classroom-seasonal showcase, charcoal, beehives, resinated, treatment of plagues of scolitids and processionary), botanical areas (legumes, rockroses, heather, aromatic, ferns, vegetation floors of the Sierra de Guadarrama, protected species) , self-guided tours (Museo Vivo, Bosque de las Autonomías, Senda de la Madera and Senda de los Sentidos) and the pond.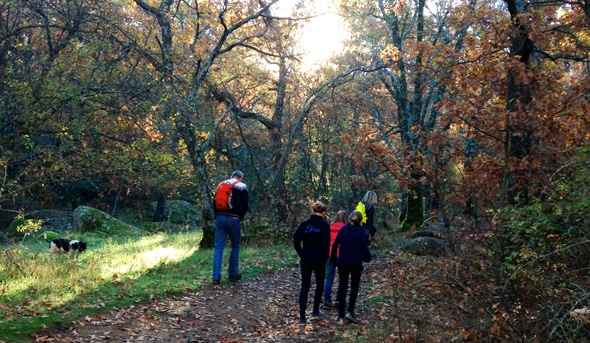 8. "THE FINLAND FOREST" IN RASCAFRIA
Location: Rascafría, Community of Madrid.
The Nordic forest of Rascafría is an idyllic place located in the Lozoya Valley of Madrid, which we access from the Monastery of El Paular and crossing the Puente del Perdón over the Lozoya River. The cabin that was formerly a Finnish sauna and the lake with the jetty will make us travel with imagination to Finland.
Recommended activities: Hiking and family trekking. The path runs between fir trees, pine trees and other conifers, poplars and birches. In addition you can visit the lake and the dam that offer beautiful aquatic prints and great colors in Autumn.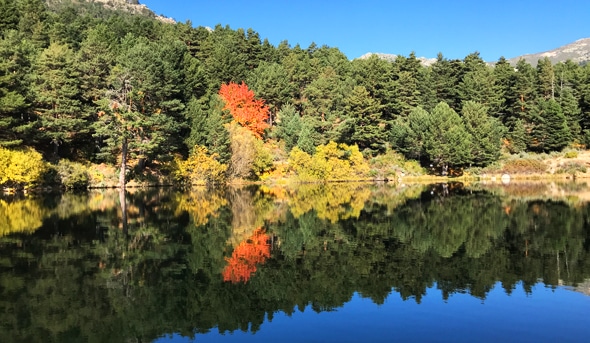 9. RIVER DURATÓN CANYON
Location: Sepúlveda, Segovia
The Natural Park of the Hoces del Río Duratón is a geological scenery, with its sickles and canyons excavated by the river in the limestone rock. It is also a paradise for bird lovers, particularly the griffon vultures. In addition, you can visit the Romanesque hermitage of San Frutos, the caves with engravings from the Bronze Age and the village of Sepúlveda. It stands out for the flora (juniper, riverbank forest) and bird watching (griffon vultures, Egyptian vultures, eagles and hawks).
Recommended activities: Hiking, family trekking, canoeing, birdwatching, historical heritage and gastronomy.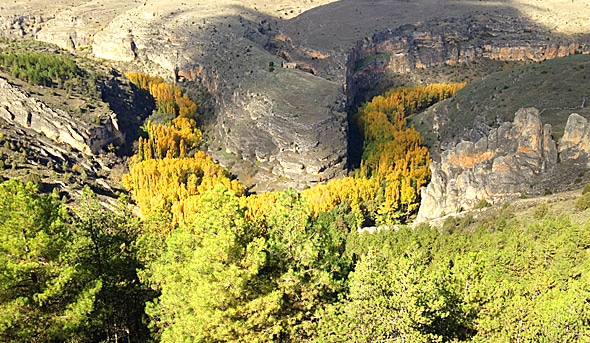 10. DULCE RIVER GORGE
Location: Aragosa and Pelegrina. Sigüenza, Guadalajara.
The Río Dulce Natural Park was popularized thanks to the television programs of the naturalist Félix Rodríguez de la Fuente. Very interesting area for wildlife lovers: fox, roe deer, wild boar, trout, otter and bird nesting, in particular the Bonelli's eagle, the griffon vulture, the hawk and the peregrine falcon; flora with poplars, willows, ash trees, holm oaks and oaks; and geological accidents such as waterfalls, caves and various karst formations.
Recommended activities: Hiking and family trekking. Wildlife and bird watching. Within this impressive space of more than eight thousand hectares, the hikes between La Aragosa village and La Hoz de la Pelegrina stand out.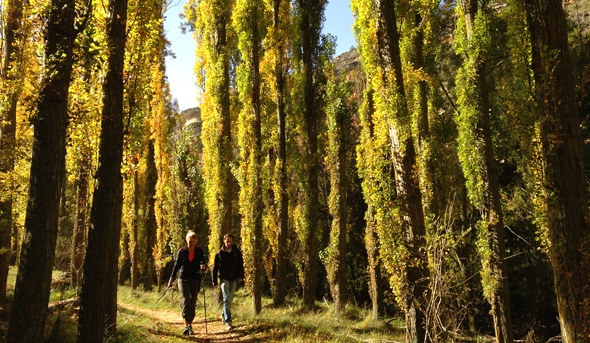 Always practice Leave No Trace ethics on your hikes and adventures. Be aware of local regulations and don't damage these amazing places.
---
DREAMPEAKS: HIKING IN MADRID. ADVENTURE TOURS IN MADRID. OUTDOOR ACTIVITIES IN SPAIN.
Text by Beatriz Montes and Gabriel Blanco