4. BASIC CANYONING TECHNIQUES 
Canyoning requires some basic techniques and rope work. The best way to gain safety and confidence is through a canyoning instruction course or attending a guided canyoning tour. Canyoning guides and instructors will encourage you and teach you all the techniques required to enjoy the adventure safely.
Here are some tips to be used during your canyoning descent.
1. Walking
Always pay attention and don´t rush, wet rocks are slippery in most sections of a canyon. The body position must be low to gain balance and to be able to use the hands whenever necessary and even sit down to slide. Keep your sight on the bottom of the river and place your feet step by step carefully to avoid slips or ankle sprains.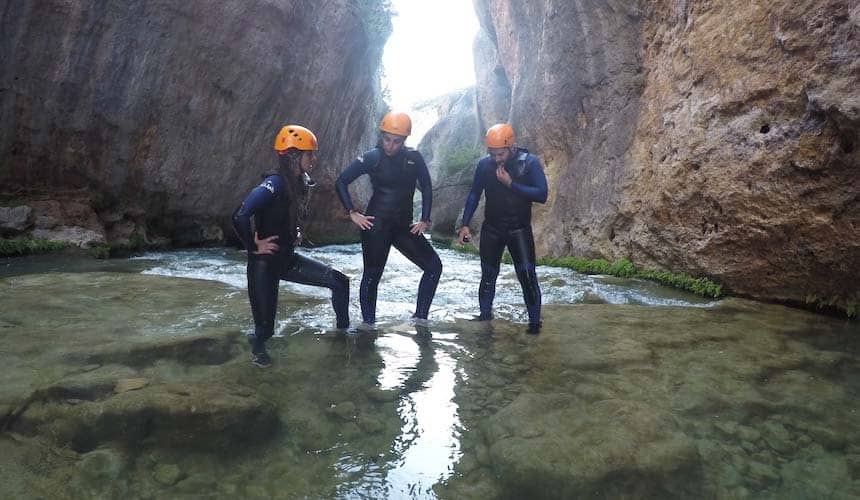 2. Swimming
Do not swim fast, except in special situations that require it. Keep calm swimming and trying to use the feet. Here it is very important, when the water currents have enough strength, to put in safety position: legs in front, semi-flexed, and using the arms as a rudder to balance and to follow the water flow. This floating technique on the water surface will make you to save energy in long canyons.
3. Diving
We must be very careful if we need to dive an underwater section of the canyon. Hydraulics, undercurrents, and sieves (or strainers) occur in flowing canyons and can trap or pin and drown a canyoneer. Wearing a diving or swimming goggles will make things easier for you. Always follow the advise of the guides or instructors.
4. Jumping
Jumping in a pothole is fun and enjoyable during a canyoning descent. But you have to be very careful when you jump. You must check that there is enough depth and the pothole is clear of rocks or trunks. If you are not sure, always us your rope and anchors to rappel or abseil. To jump safely don´t doubt, focus on the reception area, impulse yourself with one leg and quickly adopt a safe position with semiflex legs and cross your arms over your chest and keep them next to your body. If the jump is high, first extend your arms to gain balance and close them to the body just before reaching the water.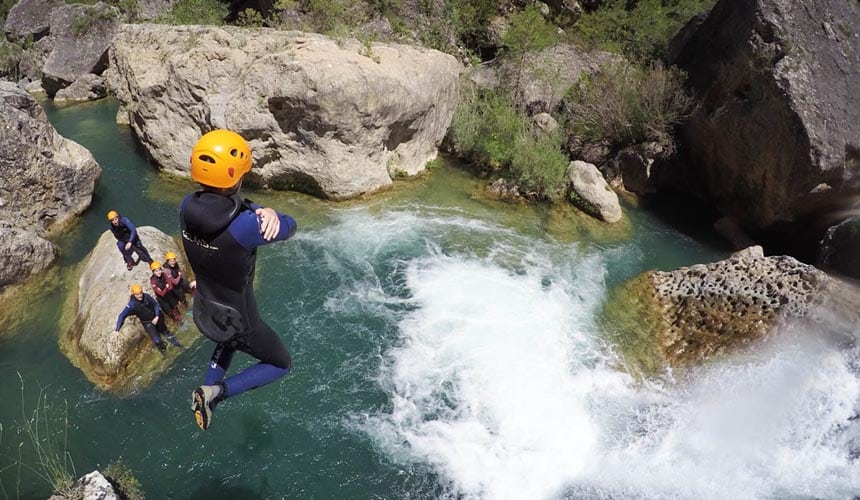 5. Sliding
Sliding through slippery rock sections into potholes is part of many canyons routes. Again always check that the reception has enough water and that there are no steps on the rock slide. Adopt safe body position with your hands and arms crossed and touching your chest, semi-flexed legs and head slightly raised up to see the way down till you reach the water. If you go on a group, always wait till the reception area is clear.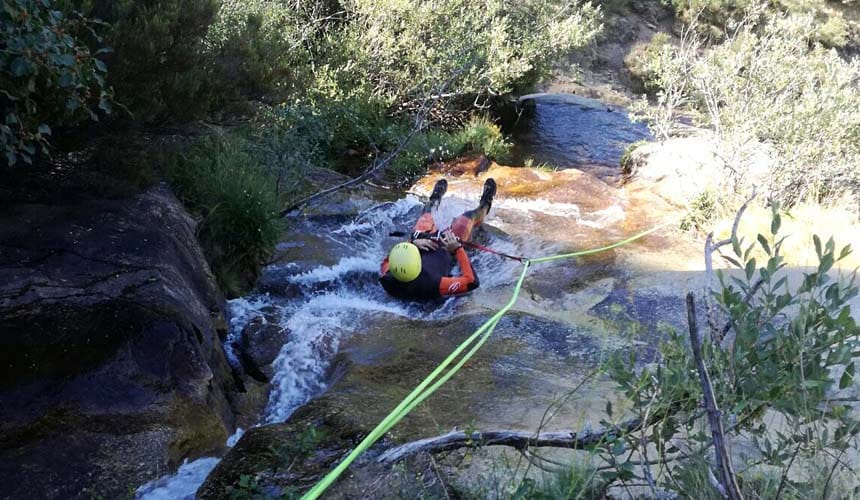 6. Scrambling down:
Intrinsically linked to the activity of canyoning, we will do some short down scramblings for easy sections with no risk of falling. You can use different techniques: opposition, face to the wall or face to the void.
7. Rappelling / Abseiling
Rappelling or abseiling is the main technique to descend vertical rock sections through the canyon safely. When jumping, scrambling and sliding is not possible or involves high risk, we will use our rope, permanent anchors and bolts fixed to the rock, the figure eight descender  and screw lock carabiners attached to our harness to rappel from one terrace, cornice or ledge to the lower floor or pothole.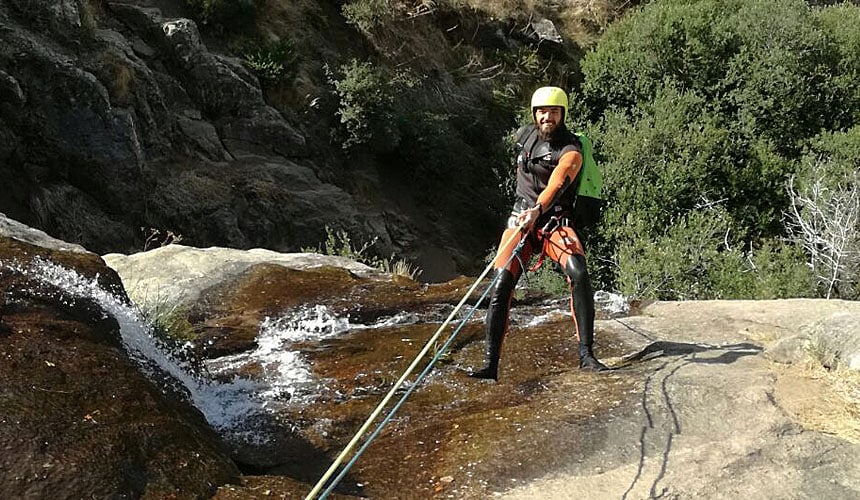 In Cuenca you can explore canyons for all levels: River Júcar Canyon, Poyatos, Majadas, Portilla and Hoz Somera canyons.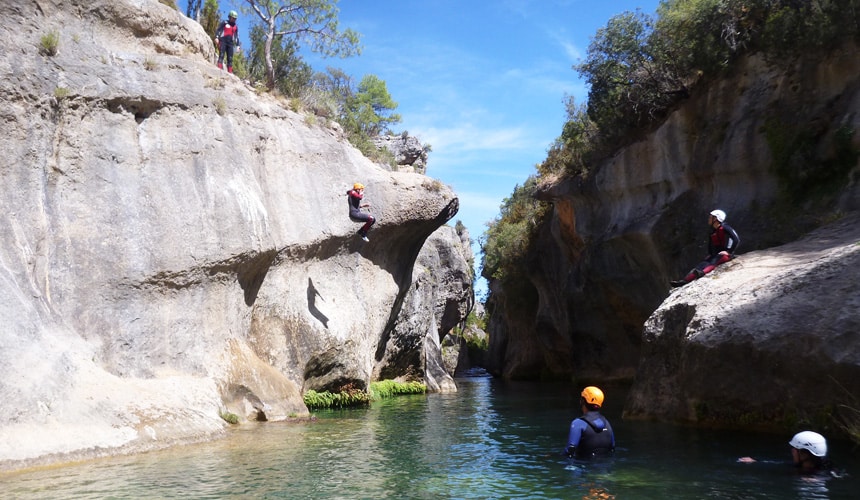 In Avila and Extremadura, less than 2 hours by car from Madrid you can practice canyoning in Papuos, Arbillas, Cascadas de Gavilanes, Garganta la Hoz y El Chorro de la Ventera canyons. It´s a perfect outdoor plan for a weekend.
CANYONING IN SPAIN
Apart from Madrid and Cuenca, popular best areas for canyoning in Spain are in Sierra de Guara, a mecca for worldwide canyoneers, Pyrennes, Costa Blanca, Granada, Mallorca and Canary Islands.
DREAMPEAKS: CANYONING IN MADRID. HIKING & ADVENTURE TOURS IN MADRID. OUTDOOR ACTIVITIES IN SPAIN.
Text by Gabriel Blanco
Mountain Guide